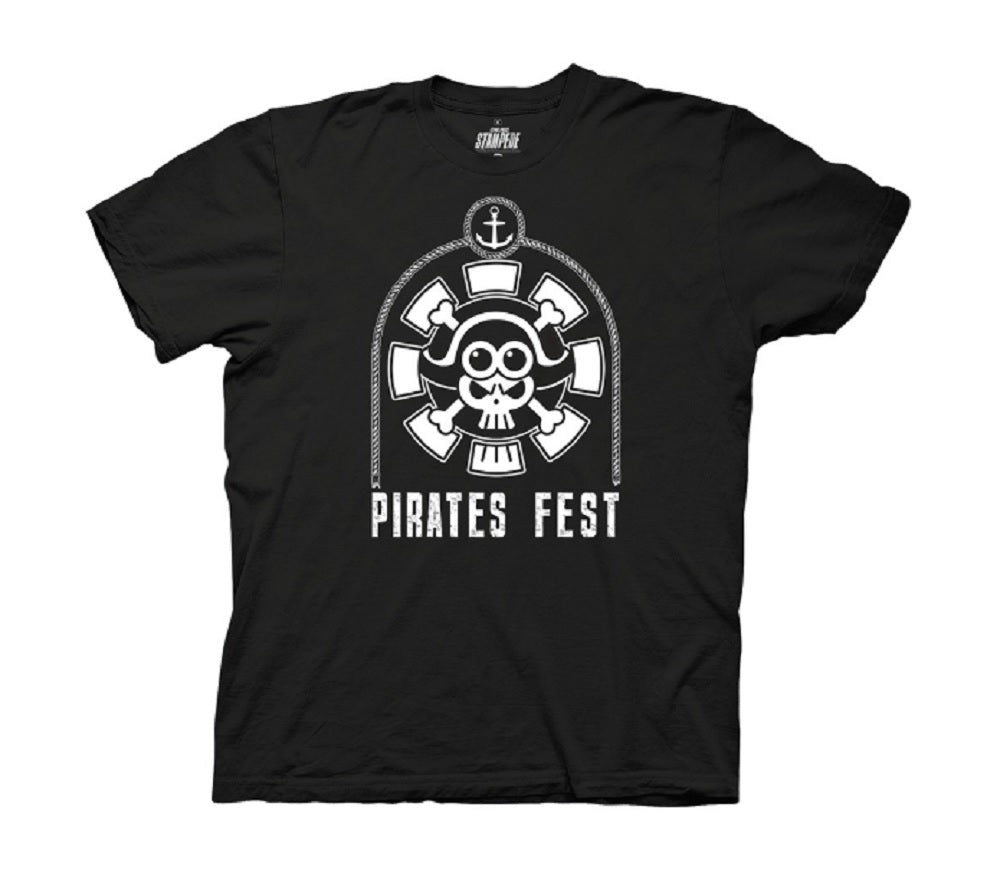 One Piece Stampede Pirate Expo Logo Anime Adult T-Shirt
The search for the most coveted treasure in the world One Piece is on! Pirate King Gol D. Roger's capture and execution by the World Government ushered in the Great Pirate Era when his last words exposed the existence of One Piece. The revelation has pirates scouring the Grand Line for its promised riches fame and title of King of the Pirates. Monkey D. Luffy is no different. Inspired by his childhood idol powerful pirate Red Haired Shanks and his desire for adventure he organizes his own pirate group - The Straw Hat Pirates. His journey leads to the rescue and befriending of swordsman Roronoa Zoro who joins him in his search for One Piece. As their journey progresses their crew grows with the additions of Nami Usopp Sanji and many others. They can use all the help they can get as confrontations with enemy pirate groups bounty hunters revolutionaries and the World Government are inevitable during the pursuit for the treasure of all treasures – One Piece.
Brand - One Piece
Material - Cotton
Color - Black
Handling
In stock items are shipped out within 24 hours to 48 hours. Special orders are shipped out within 5 to 10 business days. Pre-orders will vary by item.
Pre-orders
Items that are pre-orders include a ribbon on the picture and are marked in the listing as a pre-orders. These items will take longer to ship as they are yet to be released or received from the manufacturer.
Item condition and packaging
All products are brand new, in their original packaging with all original tags and/or accessories.
Packing
Toys, collectibles, and sensitive items are all wrapped and boxed for their protection. Any less sensitive items, such as clothes or socks, are shipped in standard shipping bags.
Shipping labels
All orders are shipped to the address input during the checkout process. Unfortunately, we may be unable to customize these details once an order has been placed. Please contact us as soon as possible if you need to make any changes or need to cancel the order. Please note that once the order has been processed, we are unable to customize or cancel it. The carrier used to ship your order may vary depending on your location and the size of the order. The most common carriers are USPS, UPS, and Asendia (international only).
Customizations and special requests
Unfortunately, we are unable to customize the actual items. However, we may be able to fulfill certain packing or shipping requests.

Please contact us at cs@fundom.com with any questions or requests.